Mastermind Events
In-person 2-day events with Mark Ferguson and his team!

Let's build your business together in a small group environment.

InvestFourMore Mastermind Events

Live and in person.
2 days of intense focus on real estate, investing, and business.
Property and business tours.
Dinner and lunch events.
Networking with like minded investors and business owners.
Join me in my office in Greeley, Colorado!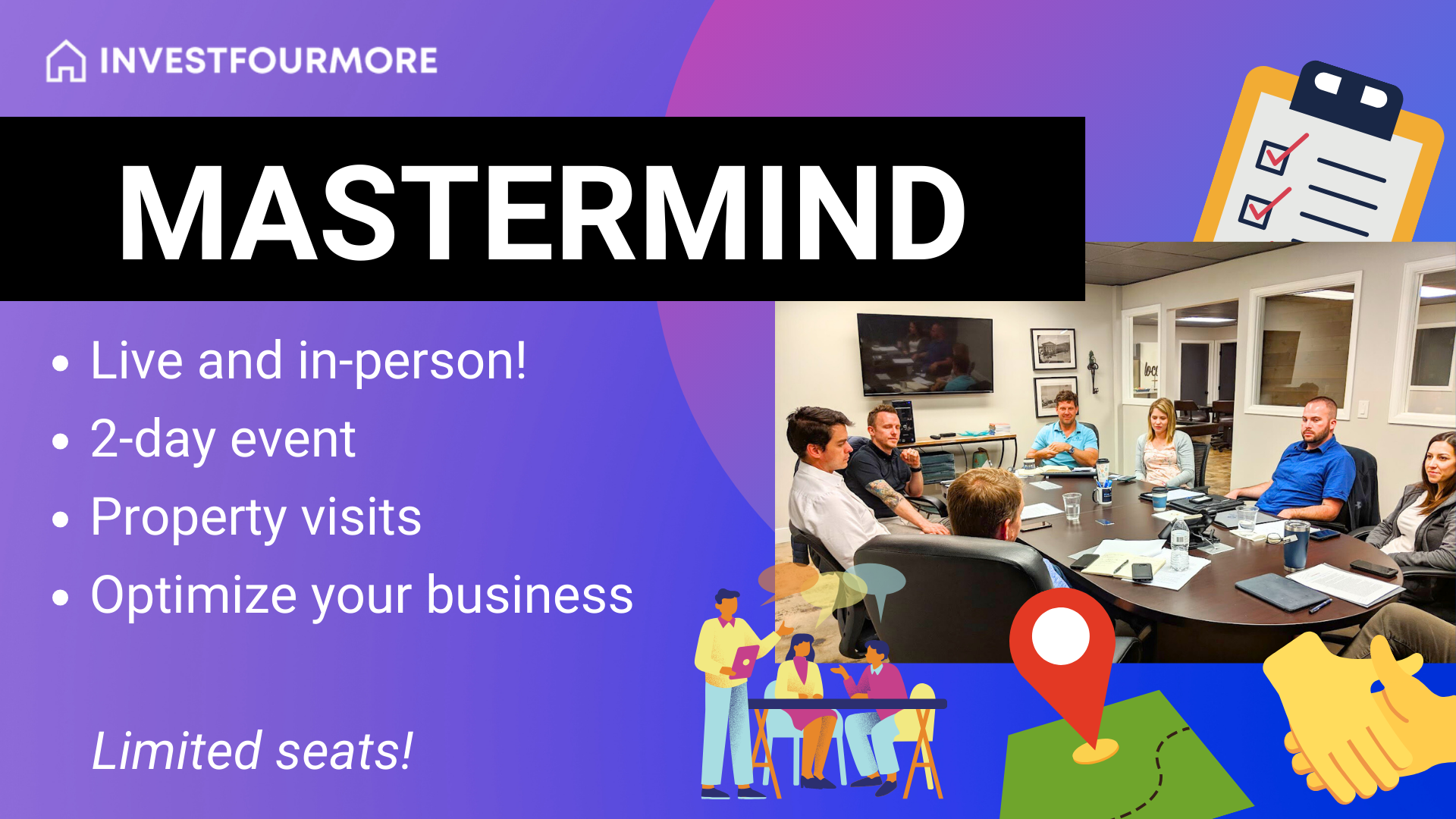 Mastermind agenda

Hosted by Mark Ferguson and his team.

Tour of properties
Networking dinner and lunches
Analyzing each attendee's business in order to improve it
Presentations on deals, financing, and remodeling
Touring of businesses Mark owns and runs
For each ticket purchased, I will donate $500 to charity.
Details
Come see everything we do. It will be in Greeley where my office is so I can show you the flips we have going, rentals, businessess and tour some of our projects.
One of the best things I have ever done is attend a similar mastermind which opened my eyes up to many things I could do better. There were some obvious things I needed to be doing better but I was blind to them because I was immersed in my work. I also met some awesome investors and business owners who I am still friends with today.
Build your business, your real estate empire, and your future
There will be a limit of 10 people so everyone has plenty of time to share their goals and plans. Together we will brainstorm ways to improve your investing, business, or even career and I will be brutally honest. I will go over any topic the group wants to talk about with no details spared. I can't talk about everything on soical media or YouTube but I can in these private settings.
I will have training sessions on financing, finding deals, and construction management as well. There is a lot jam packed into to days.
Logistics
The cost is $4,500 per person.
Meals are included, but you will be responsible for your own travel and lodging expenses.
If you have any questions, please email me at [email protected]. There are discounts available if you want to attend multiple sessions as well. If a spouse or business partner wants to attend there may be discounts available as well.




Available in days

days after you enroll

Important and Useful Information